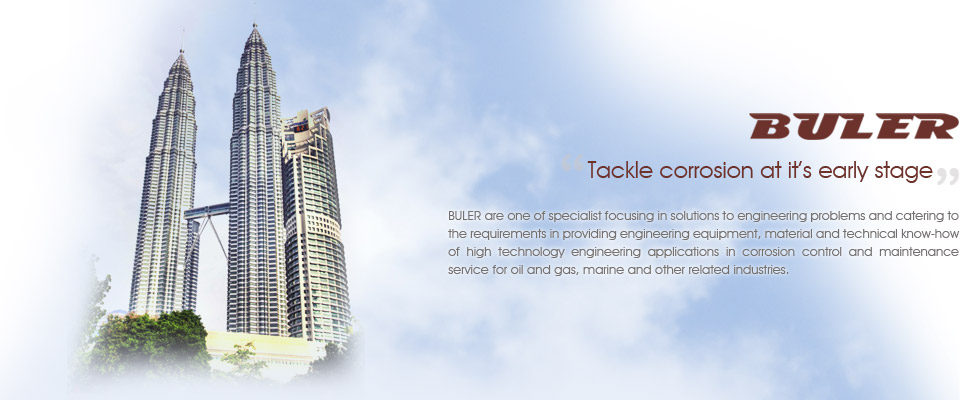 BULER Engineering Sdn. Bhd. was incorporated as a Mechanical and Electrical Engineering company and it has established in a highly technical market. Demands by clients for works that incorporated high environment sensitive practices, safety requirements, labour effectiveness, professional etiquette pushed BULER team to streamline its activities and invested in technology to meet future expectation.
BULER team are one of a few local engineering specialists catering to the local industrial, oil and gas petrochemical and building industry in providing engineering supplies, materials and know-how in high technology engineering applications.
BULER Engineering Sdn. Bhd. was established to provide specialised niche engineering services to a wide range of industries namely;
Hazardous
Construction
Industrial
Commercial
Buler engineering is an equal opportunity employer. The company offers excellent career opportunities to professionals who aspire to create an impact on Oil & Gas, Industrial Plants, Infrastructure, Manufacturing and Corrosion Control Solution. As a fast-growing Service Provider in Malaysia, Buler seek qualified and highly motivated individuals, to fill the vacancies currently available. We are always interested in hearing from experienced technical and business professionals with a wide range of skills.
Interested candidates are invited to write in, fax or e-mail resumes to the address below:
HUMAN RESOURCE MANAGER
BULER Engineering Sdn. Bhd.
No3-2 Jalan Merpati,Tanamera,
47650 Subang Jaya,
Selangor Darul Ehsan, MALAYSIA. Phone : +603-5191 8998
Fax : +603-5191 9889
Email : hr@buler.com.my
Senior Project Engineer
Responsibilities:
Determine project specifications by studying product design, client requirements, and performance standards; completing technical studies; preparing cost estimates.

Determine project schedule by studying project plan and specifications; calculating time requirements; sequencing project elements.

Maintain project schedule by monitoring project progress; coordinating activities; resolving problems.

Control project plan by reviewing design, specifications, and plan and schedule changes; recommending actions.

Prepare project status reports by collecting, analyzing, and summarizing information and trends; recommending actions.
Requirements:
Possess a minimum Degree or Diploma in any Engineering discipline;

Minimum 5 years recent working experience in construction and has experience in handling tank maintenance during this tenure in Oil & Gas and or Petrochemical industry;

Minimum 5 years project management experience in implementing projects in Oil and Gas industry & and Petrochemical industry;
Competitive remuneration will be offered to the successful candidate.
Accommodation will be provided for non-local resident.
Closing date: 10 September 2014
HSE Safety Officer
JOB DESCRIPTION
Responsibilities:
Inspect or carry out the safety inspection & determine any process or any description of manual labour used in the place of work to cause bodily injury to the workers.

Investigate any accidents, near miss accident dangerous occurrence, occupational disease which happened at the place work.

Liaise with other local authorities on safety and health matters.

Attend the safety inspections.

Carry out any other instructions made by the management on any matters to safety & health in the worksite.

Monitor and lead the safety committee members in implementing and orgainising the safety programme.

Well verse with client HSEMS in Oil and Gas industry.

To handle site safety requirement.
Requirements:
Possess a qualified Degree in Safety and Environment for HSE Officer and at least a Diploma for Safety Supervisor;

Must possess DOSH / NIOSH (Green Book) certificates;

At least 8 years experience as a HSE Safety Officer and 5 years experience as a Safety Supervisor in Oil & Gas and or Petrochemical industry

Experience in tank erection and maintenance projects will be an advantage;

Able to communicate in written and spoken English and Malay
Competitive remuneration will be offered to the successful candidate.
Accommodation will be provided for non-local resident.
Closing date: 10 September 2014
Assistant HR Manager/ Senior HR Executive
JOB DESCRIPTION
Responsibilities:
To lead the planning and implementation of effective HR strategies and programs for optimum; organizational development and retention of talent.

To provide constructive recommendations on effective compensation and benefit structures towards strong reward and recognition culture, and competitive talent retention.

To manage recruitment and manpower planning, training & development, performance management scheme, and staff welfare initiatives to attract, develop and retain key talents.

To inculcate the spirit of HR as a strategic partner, supportive of the organization's business objectives and values.

To handle staffing issue either by counseling or taken disciplinary action.

To lead and manage a team of staff to discharge HR functions in ensuring quality, efficiency and compliance objectives are met.

Responsible in developing, formulating and implementing the company's Industrial Relations and Employee Relations policies and procedures which meet with the company's business goals.

To provide support to the Management to ensure appropriate management of all industrial Employee relations issues.

Investigate serious allegations and where necessary, organize the domestic inquiry proceeding.

Identify and implement positive employee relations programmes that will lead to a more efficient and motivated work force.

Manage effectively all litigation and employment tribunal cases to protect the reputation and finances of the Company.
Requirements:
Preferably a Degree in Human Resource Management or equivalent

Minimum 7 years similar working experience.

Good leadership and strong management, communication and interpersonal skills.

Industrious, Integrity, time management are essential.

Result oriented, able to work in a fast pace, multi-task and tight deadlines environment.

Willing to Travel.